The Cost to Remove a Tattoo
The Cost to Remove a Tattoo
When paid in full we offer:
Buy 3 Sessions And Get 1 Session FREE & Buy 5 Sessions And Get 2 Sessions FREE.
20% Off For All Military, Law Enforcement, Fire Department, And CCSD Employees*
FREE?
Come in for your FREE, no-obligation consultation today! We will provide an estimated number of treatments as well as a measurement of the square inch(es) of ink and payment options that will fit your budget.
Laser Tattoo Removal Costs Are
Don't let laser tattoo removal cost deter you!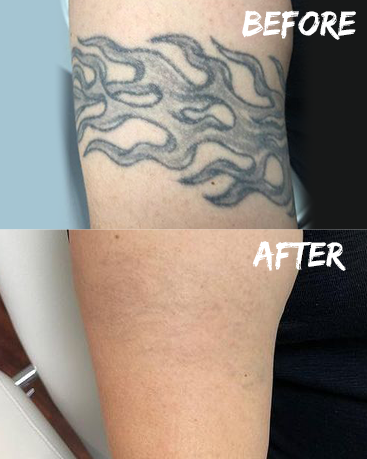 During your free initial consultation, we will estimate the amount of treatments your tattoo will need based on coloring, size, the quality of the ink, and location of the tattoo, with amount of actual ink being the overall deciding factor.
Our laser tattoo removal pricing starts at just $75 per treatment, but we don't categorize our pricing – we customize a pricing and treatment plan to match your individual removal needs. At your initial, no-obligation consultation, we'll provide a price and estimate on how many treatments are necessary to remove your tattoo(s). Our pricing structure is based on the actual amount of ink on your body, not the size of the area.
Package deals are available for all types of credit contact us or schedule a free initial no-obligation consultation to see if you qualify. Coming Soon! Online Financing!
Contact us to schedule your first appointment.
Check Out Our Pricing Deals For Removal Of Your Old Tattoo.
*Proper identification required. Not valid with any other coupons or package deals. A $25 Cancellation fee may be applied to your next treatment without a proper 24-hour notice of appointment cancellation.