At Clear Out Ink, we utilize only the best, state-of-the-art equipment.
Find out more about the equipment we use below: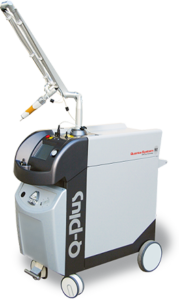 The Quanta Q Plus C laser is the only laser on the market that offers 3 true laser wavelengths, which means it can even treat green and blue inks that are typically the hardest to remove. The Q-Plus series of laser tattoo removal devices sets an industry standard by which all other devices are measured. The flat-topped, square spot equally distributes energy across the beam, resulting in a more efficient and even laser treatment.
Zimmer Cryo 5 Cooling System
Our clinic utilizes the Zimmer Cryo 5 cooling system for optimal comfort before, during, and after your laser tattoo removal procedure! The Zimmer Cryo 5 won the Editor's Choice Award for Best Stand Alone Epidermal Cooling Device. This proven technology minimizes pain and thermal injury during laser tattoo removal treatments by cooling the epidermis before, during, and after treatment. The operator of the cooling system also has the ability to customize the intensity by choosing 6 different airflow rates.
Read more: Comparison of the Treatment With and Without Zimmer Cryotherapy